Top posting users this week
As one of the most frequently asked questions on our server today, I figured a comprehensive and detailed guide on the economy of our server was necessary. These instructions will tell you everything you need to know about making money on Thunder Pulse Network.

Q: How much money do I start with?
A: When you first join the server, your balance will be $500.

Q: What do I spend money on?
A: Money can be used to purchase items from the admin shop and player shops. You can also pay players using the /pay command for things like items or performing services for you.

Q: Why can't I sell to the admin shop? I want to sell stuff for infinite money!
A: Selling an infinite amount of material to the admin shop would not only generate inflation, but it sends those materials into the void, never to be seen again. Admin shops are not run by players, they are server generated and maintained. Any shop with [Buy] in the heading is an admin shop.

Q: Okay, if I can't sell to the admin shop, then how do I make money?
A: The most efficient and easiest way to make money right now is to vote. You can vote by typing /vote in-game and being taken to a list of voting sites. As of writing this, there are 7 sites to vote on. Voting on each site would give you a cool $1400 every 24-hours for about 5 minutes of effort.

Another means of gaining money is simply playing. Every 30 minutes, $60 is deposited into your account for playtime. That's $2/min, or $120/hr.

Finally, you can create your own shop with trade signs. Trade signs allow you to sell any item, in any quantity, for just about any price. You can create as many or as few trade signs as you please, and build them anywhere in the world, although building near spawn may yield you greater results thanks to higher foot traffic. Make sure your shops are protected with Grief Prevention as with all of your other builds.

The proper syntax for trade signs are: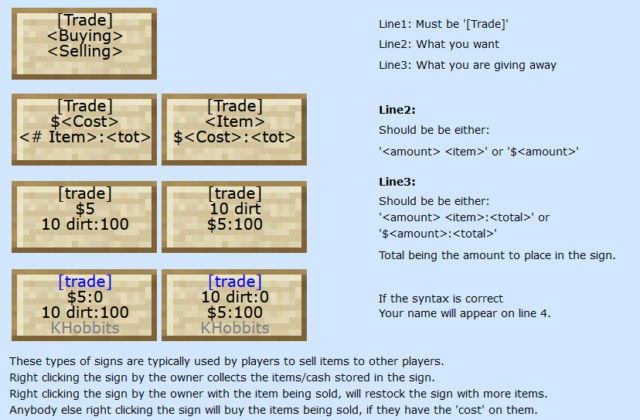 Or, if you'd prefer, a video guide can be found here:


Q: Why are things in the admin shop so expensive?
A: The admin shop is not intended to be a "good deal" by any means, it's there to serve as a baseline for prices and what materials are worth at their highest end. Your goal when making a shop should be to undercut the admin shop on prices, or sell things it doesn't offer.

Q: Can you please add jobs, AreaShops, AuctionHouse, or some other feature that currently isn't available?
A: We take all suggestions into account and are always looking for ways to improve our players' experience. In keeping with the Semi-Vanilla nature of the server and not wanting to "clutter" things with too many options, we may opt to not add your requested feature or delay its rollout. Even so, ideas are always welcomed in the #feedback channel on the Discord.

And that is about all there is to it. Keep in mind new ways to make money or exchange goods may be added in the future, and if so, this guide will be updated to reflect those changes. If you have any further questions, please contact a staff member.
Owner




Posts

: 6


Join date

: 2020-03-07


Location

: USA



---
Permissions in this forum:
You
cannot
reply to topics in this forum